Future Breeding Plans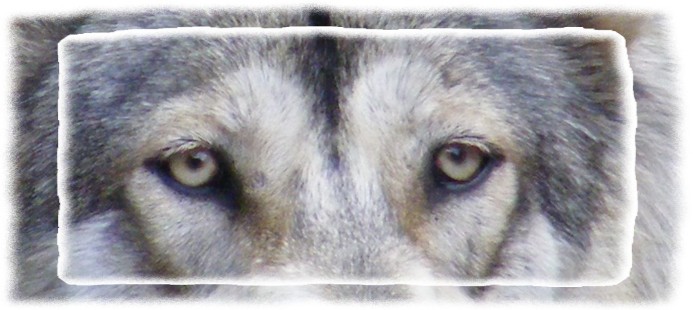 "Look into the eyes of a wolf and see your soul"
The Future Looks Bright For Sansorrella Anglo Wulfdogs

Coronavirus (Covid-19)

Due to this unprecedented emergency we will not be having any puppies in 2020 but we hope that the situation will enable us to have the following litters in early 2021. Please continue to check this page for further information on future litters. Keep safe everyone.

Litter Planned for Spring 2021

This will be "Rune's" last litter before retiring from breeding and will hopefully continue the legacy passed down through the generations from her Great Grandma "Echo", who was one of the foundation bitches in the Anglo Wulfdog breeding programme.


The chosen sire is an outstanding Alaskan Malamute with a superb temperament. He is from extremely good lines with an impeccable pedigree. We are waiting for his hip score, eye test and DM results before bringing him into the breeding programme.

Although this litter with "Rune" is part of the Anglo Wulfdog breeding programme it is important to point out that the puppies from this particular litter will not be wolfdogs. They will be approximately 90% Alaskan Malamute 9% German Shepherd with just a trace of wolf content.

The purpose of the litter is to provide us with a female that in future can be bred with our wolfdog "Soul", as well as any future wolfdog studs, to lower the wolf content of future litters. "Soul" has been bred with "Rune" in the past and they produced some fabulous chunky wolfy puppies - probably the best yet. I am confident that breeding him in the future with a "Rune" x Alaskan Malamute daughter is the right direction to take with our breeding programme. We don't want to be breeding high wolf content puppies at the current time since they require very specialist homes, which are rare and difficult to find within the UK, and don't make good family pets.

We have found in recent years that a few owners haven't coped well with higher content wolfdogs, resulting in puppies and dogs needing to be rehomed - a very traumatic experience for wolfdogs - or taken back by the breeder. Breeding "Soul" with a female with no wolf content will lower the wolf content of his puppies in the future, making them better family dogs. However, they will still be big, boisterous and demanding dogs, requiring lots of exercise and will not be suitable for novice owners.

I could have bought in an Alaskan Malamute female to put to "Soul" and save the time that will be necessary to grow on a puppy but this would not be a Sansorrella line and I am keen to retain the genetic ancestry from my early Sansorrella breed lines.


Note: It is our intention to use this particular Alaskan Malamute with our "Soul" daughters later in 2021/22, the offspring of which will be wolfdogs with lower and more acceptable percentage of wolf content than previously produced. Higher wolf content litters may be produced in the future as we have plans to use a lovely wolfdog imported by us this Summer. Hopefully he can be included in our programme in the next few years but these litters will be few and far between and potential owners will need to fit very specific and specialised criteria.

The cost of a puppy from the Rune" x "Negan" litter will be much reduced from our normal price. The litter is primarily to give us a suitable female to use with "Soul" in the future and we are just looking for good pet homes for the rest of the litter. If you are interested in one of these puppies please email asap to get your name on the reservation list. email:
enquiries@sansorrella.com
The Sire - Alaskan Malamute (pictured above)
Health results to follow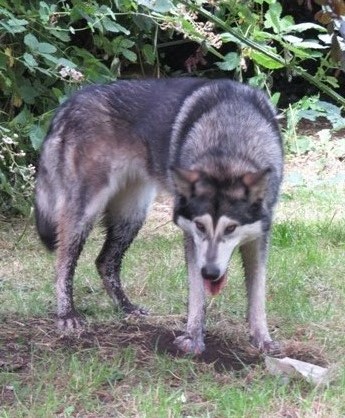 The Dam: "Rune" - Sansorrella Wimik
Anglo Wulfdog
79.2% Alaskan Malamute/20.8% German Shepherd
Hip Score: 5:9
DM: n/n (Clear)



Click button to see full Embark Health Report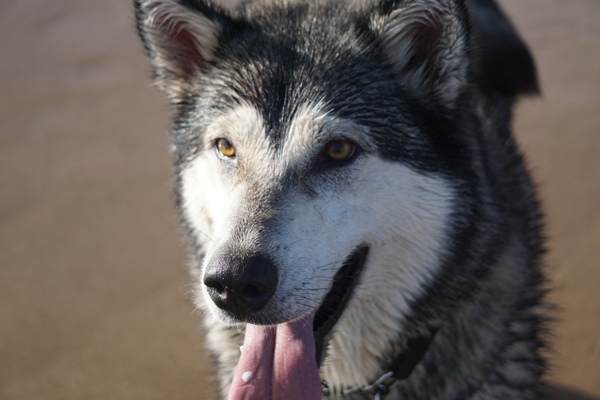 This will be "Rune's" last litter before retirement and becoming a lady of leisure.

Another litter planned for 2021 is with the same Alaskan Malamute sire with another of our Anglo Wulfdogs "Dream" ("Rune's" half sister)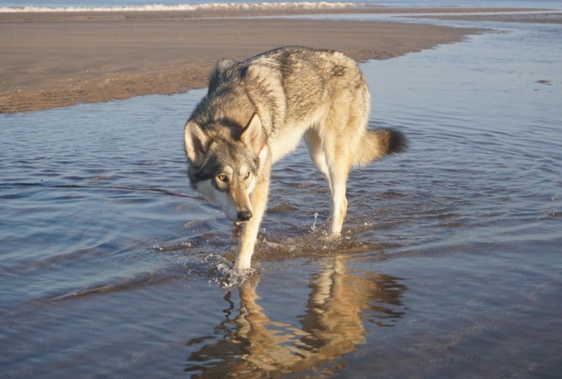 The Dam: "Dream" - Sansorrella Dream the Dream
Anglo Wulfdog
40.5% German Shepherd 25.2% Grey Wolf 24.2% Alaskan Malamute 10.1% Siberian Husky
Hip Scoe: 13:08
COI: 0%
DM: n/DM (carrier)


Click button to see full Embark Health Report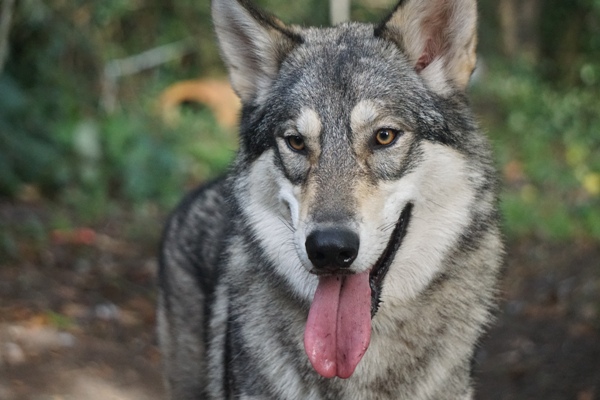 This will be "Dream's" first litter
"Dream" was placed 1st in the Junior Anglo Wulfdog class at the Skidbrooke Wolfdog Show August 2019
and was also Best Anglo Wulfdog and received her first Diploma of Merit (awarded by the judge to outstanding representatives of the breed)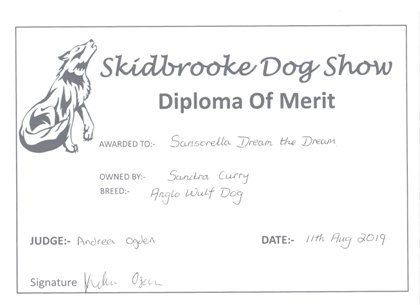 The puppies resulting from this mating should resemble "Beowulf" pictured below
(His parents are "Rune" and "Soul" so similar genetic make-up)

| | | |
| --- | --- | --- |
| | "Beowulf" - Sansorrella Grendel | |
Please Note:
Prospective owners of these puppies should preferably have experience and be confident with large independent breeds and be able to put in time socialising and training. We only take a limited number of reservations in order to avoid disappointment but it is possible that there could be extra puppies available if larger than average litters are born. Other breeder's in the programme may be planning litters earlier than this and if there is an earlier litter people with reservations will have the option to transfer to an earlier litter.

For more information on the
Anglo Wulfdog
please see relevant webpage.

New for 2020


It has become apparent from dna testing that the wolf content down the generations of Anglo Wulfdogs varies considerably, even within the same litter, due to a phenomenon known as "genetic drift". This means the actual content isn't always as calculated by traditional mathematical means. Genetic drift is demonstrated very simply courtesy of this link Marbles in a Jar which makes it easy to understand this theory.

Because of this variation we feel that it is very important to know the content of puppies before they go to their new homes in order to avoid an unsuitable puppy going to the wrong family home, which could cause problems for the owners in the future. Knowing the content makes it much easier to predict the potential behaviour of a dog so it can be matched with the right owner.

Starting with our 2020 litter we will be Embark testing every puppy in the litter, at some considerable expense to ourselves which will be absorbed by us on this occasion, as the price has already been agreed with the owners, but we may have to pass on part of this cost with future litters. The Embark DNA test will not only show the breed make up of each puppy, including the % of wolf content, but will also test for over 160 genetic diseases. The results for individual puppies will be included in the puppy pack for information and future reference and will make interesting reading.

Unfortunately there isn't currently a laboratory in the UK that can reliably give all the information we require so we have to send the DNA swabs to USA, which takes time. To further complicate matters the swab has to be taken at least an hour after the pups have fed from mum to avoid any cross contamination. This part of the process is going to be difficult as mums don't normally want to leave their pups for more than a few minutes during the first few weeks, so it is unlikely that the opportunity will arise to obtain the swabs from each puppy until they are at least 3 weeks old. This only gives us a very small window within which to get the swabs sent to USA for processing and then to obtain the results back, but we are hopeful we can have the results before the puppies are due to leave at 8 weeks old. This first litter of 2020 will be a bit of an experiment to see if it can be done. We feel that the information given about the genetic health of each puppy makes the effort and expense worthwhile, even though all parents have already been tested.

Potential owners will still be invited to visit the pups when they are four weeks old but as it takes several weeks to receive the results of DNA testing we reserve the right to advise against a particular first choice if we feel that pup is wrong for a particular family or situation. It will therefore be good if owners could have a first and second choice of puppy as it's very important for them to have the right puppy for them. Ultimately owners will have the final choice but with the DNA information it will be an informed choice!

We have been mystified in the past that despite all the pups in a litter having been reared and socialised exactly the same, some owners really struggle with their puppies while others find them very easy. It wasn't until we routinely tested the DNA of a few puppies with the same parents, that were kept as potential future brood bitches, that we discovered the genetic drift - which could explain why some owners find these pups harder than others.
All litters are part of a specific breeding programme and are registered with the Anglo Wulfdog registry, where health and temperament will be monitored and recorded in order to improve breeding lines and safeguard the future of our Wolfdogs.
Before mating takes place every planned litter is 'tested' using a computer programme to ensure that we keep the COI (co-efficiency of inbreeding) to below 6.25%, calculated over the necessary 10 generations.

All breeding dogs are "Embark" tested - this not only gives genetic breed make-up but DNA tests for over 160 diseases. Click the link on each dog's profile to see their full Health Test Report.



As we only need to keep a few puppies from each litter to go forward into the breeding programme, there will inevitably be puppies surplus to requirements that will be available to pet homes.

Puppies will only be sold to suitable and approved homes - please contact me for further details if you are interested in giving a home to a Sansorrella puppy or would like to become involved in the breeding programme.

NOTE:

As responsible breeders we will not let anyone have more than one puppy at a time. If we are aware that a potential owner already has another puppy of a similar age we reserve the right to refuse to sell them a Sansorrella Anglo Wulfdog puppy. Owners may have an additional puppy from a subsequent litter but it is important to bond with the first puppy and get some basic training in place before getting another puppy. If an owner has two puppies of a similar age they will bond with each other more than with the owner and training will be extremely difficult, if not impossible. The puppies will also form a dependency on each other which can create problems in the future. So please don't ask for more than one puppy or even consider getting a Sansorrella Anglo Wulfdog puppy if you already have or are about to have another puppy of a similar age. Come back later!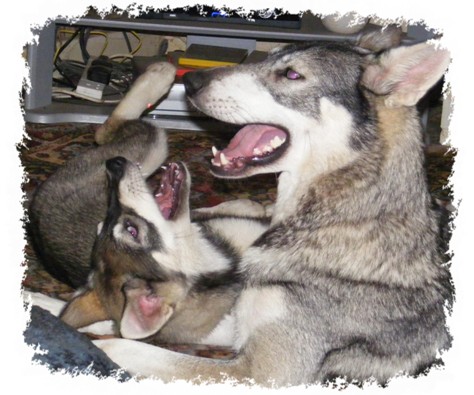 "Wicca" and daughter "Tundra" (3 months)
See
"Puppies Available"
page for details of current litters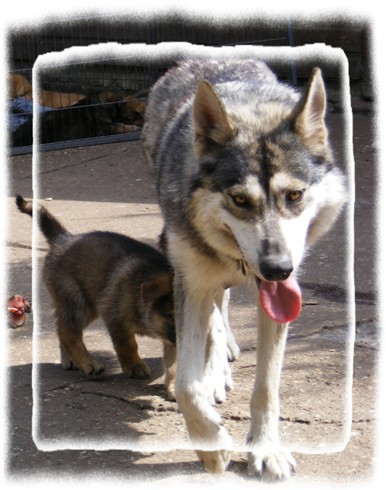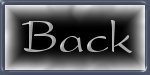 "I'm working for the creation, I refuse to take part in its destruction".
Leon Shanandoah - Iroquois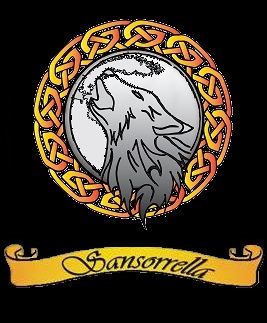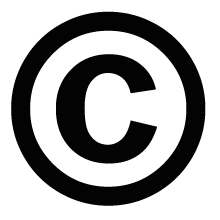 Sansorrella 2019 All rights reserved