Puppies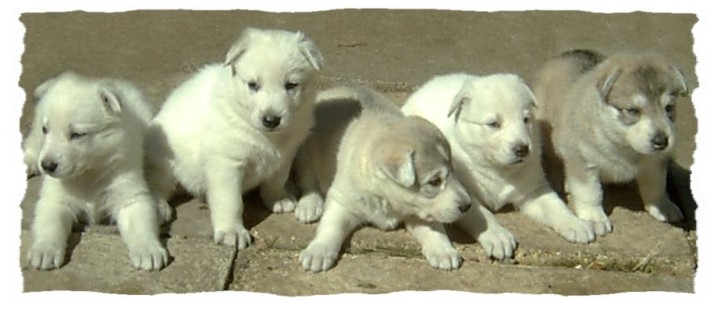 Lifestages of an Anglo Wulfdog
"The First Year"

Illustrated by
"Cal" - Sansorrella Caledonian Prophecy

| | | | | | |
| --- | --- | --- | --- | --- | --- |
| 2 weeks | 3 weeks | 4 weeks | 5 weeks | 6 weeks | 7 weeks |
| 2 months | 4 months | 6 months | 8 months | 10 months | 12 months |

2010 - 2011





2012 - 2013





Although we have been proud to be members of the Kennel Club's Assured Breeders Scheme

in the past, we will be withdrawing from the scheme in 2014. This decision has been taken due to the planned extortionate increases in membership fees being charged by the Kennel Club for a scheme with no obvious benefits for the breeder.



However, you may rest assured that the same high standard will continue to apply to all puppies bred by Sansorrella.

In fact we go further than the Kennel Club requirements in the care and welfare of our dogs and rearing of our puppies, the information given in our comprehensive puppy packs, and the after sale service we offer puppy buyers for the life of their dog.





2011 - 2012





2013 - 2014



Testimonials from our owners and visitors:



"
Thank you for my lovely girl. She has made the most beautiful dog and gives me something to smile about everyday."
LJ
(
Leics)
"Thank you for being so patient and answering all my questions ......................"
KW
(Bucks)
"It really helped being able to visit our puppy at regular intervals - she already knew us by the time we took her home"
NB
(Northants)

"This is the best dog I have ever owned" ST (Somerset)

"We really appreciate all the time you have spent advising us ...." SB (Middx)

"Seeing video of our puppy's progress was lovely, thank you" JD (Yorks)

"I am so proud of my dog - she gets so much attention where ever we go ..." AJ (Warks)

"I couldn't wish for a better dog" SI (Yorks)

"Thank you for breeding my super girl - I am so proud of her show wins" UK (Bucks)

"Meeting your pack was an experience I will never forget!" SL (Bucks)

"The webcam link was a brilliant idea - we picked our boy long before we got to meet him" SM (Essex)

"Thank you for allowing us to meet your pack on a run - I got some fantastic photos and really must have one of these dogs!
JO
(Beds)


"We have a great deal of pleasure from 'S' and love her very much"
MS (Kent)


"Thank you so much for letting us meet your dogs and for taking the time to answer our many questions. We really appreciate your honesty" SR
(Lincs)


"We can't thank you enough for our wonderful boy! " ES
(Wilts)

"Thanks again for a wonderful dog"
CA
(Wilts)


"You've done a brilliant job. Done most of my work for me!!"
DH
(Worcs)


"We think we are very lucky to have him ... a dog like this does not come around very often and to actually own a dog of his nature and looks is so amazing"
CW
(Germany)


"This is the best dog I've ever owned"
TW
(Germany)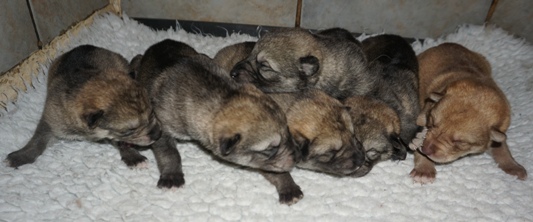 A typical Anglo Wulfdog litter - 6 days old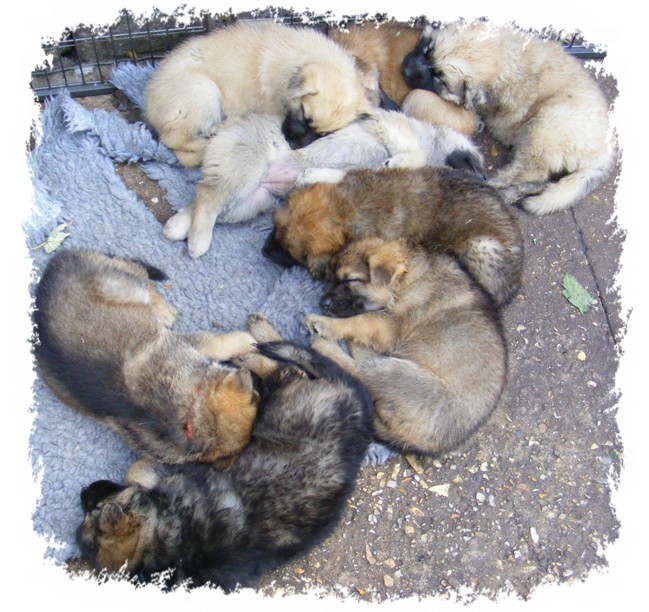 "Let us look forward to the pleasing landscape of the future"
Chief John Ross - Cherokee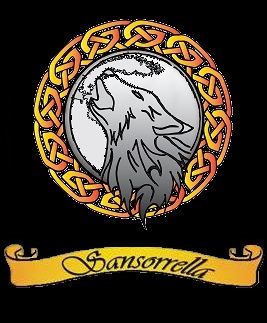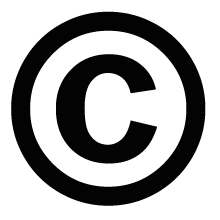 Sansorrella 2019 All rights reserved | Terms and Conditions | Privacy Policy