Introducing Sansorrella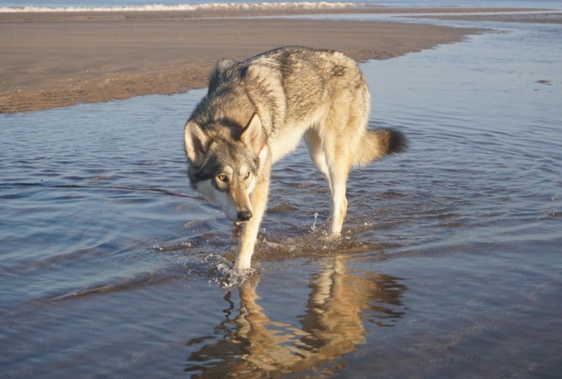 Sansorrella Dream the Dream - Anglo Wulfdog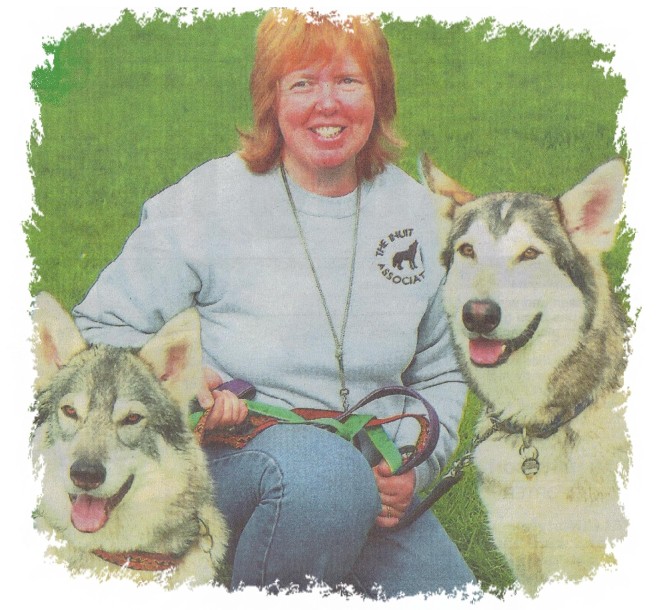 Me with my early Sansorrella Northern Inuits "Breeze 1" and "Timber"


Sansorrella First Class
First generation Anglo Wulfdog

Thank you for taking an interest in the

Sansorrella

website.

After spending an important part of my life rearing five lovely children with a menagerie of assorted pets and livestock, plus several years involved with falconry, I finally got back into the dog world by breeding and showing shelties. In 1999 I found the 'Northern Inuit dog' and my life has never been the same since! During many years of breeding these dogs I have enjoyed numerous show successes

(see

Trophy Room

).

I have also had several 1st place wins in obedience competitions with this 'breed' and some respectable placing in agility with one of my German Shepherd Dogs, but have neglected to compete recently due to other commitments. However, Sansorrella dogs continue to do well in obedience and agility competitions, in addition to achieving many prestigious show wins for their proud owners.



"Echo" - Best in Show
Northern Inuit and foundation Anglo Wulfdog
I was Chairperson of the Northern Inuit Society for a while before forming The Inuit Dog Association (now the Timber Dog Association) with a few fellow enthusiasts, the intention being to expand the limited gene pool and to address the health issues in the breed. After two years of making no progress with this group of breeders and being very disillusioned with all the 'breed' clubs of that time due to their unprofessionalism and unethical breeding practices,

in 2009 I embarked on a unique breeding programme with a few select breeders.

I am continuing my research into the health of these dogs, uncovering the true extent of the consequences of inbreeding as explained in the

health

and

genetics

sections of this website.

Much time has been spent over the years trying to discover the true history of Northern Inuit dogs, which are the foundation of all the wolf lookalike breeds in the UK, going back to the six original dogs imported from the US (details are in my book 'The Wolf Lookalike Handbook"). As no accurate records were kept in the early years it has been impossible to collate true documentation of the origins necessary to satisfy the Kennel Club, thereby making recognition of Northern Inuit dogs as a 'breed' impossible. The many discrepancies in pedigrees make them unreliable at best and it is time to leave the past behind. However, before doing that I will just say that over the years many responsible breeders have recognised the extent of inbreeding and have broken away from the Northern Inuit Society to create their own breeds, which now go under various names - my contribution being the Anglo Wulfdog.

The name Anglo Wulfdog was chosen as 'Anglo' denotes the English origins and 'Wulfdog' is formed from the Anglo Saxon spelling of wolf - 'Wulf'. Thereby 'Wulfdog' gives the impression of 'Wolfdog' in the same way that our dogs give the impression of being wolves, but aren't.

Anglo Wulfdog breeders share the conviction that many 'Wolf Lookalike' dogs, in particular the Northern Inuit dog, are chronically inbred and have reached a genetic 'bottleneck'. There are twelve excellent articles on this website which explain in detail the perils of inbreeding and advises breeders to do what we at Sansorrella and Anglo Wulfdog have been doing for over 10 years to give our dogs a viable future. Anglo Wulfdogs are bred for stamina, health and temperament

.



There has been a lot of conjecture and debate as to whether Northern Inuit dogs ever had any wolf content. Recent advances in the science of DNA has enabled me to test the DNA of all my own dogs, thereby confirming my opinion that there was very little wolf content in the breed. At least one on my Northern Inuit lines had no wolf content whatsoever until I introduced it very recently. One of my lines had a trace, which shows I originally had 6% wolf in that line about 15 years ago. All my original Northern Inuits came from the same breeder who helped create that breed. When I was breeding Northern Inuits I used a number of different stud dogs and have now been able to genetically trace the generations back to one wolf that contributed to some Northern Inuit dogs through early Olderhill lines. I have increased the wolf content of Anglo Wulfdogs significantly through the addition of established European and American wolfdog breeds, the % now making them true wolfdogs rather than "lookalikes".





Sansorrella Pagan Promise


Northern Inuit and Foundation Anglo Wulfdog



Sansorrella Tundra Spirit
First generation Anglo Wulfdog


Sansorrella Seaspray
Northern Inuit and Foundation Anglo Wulfdog




Wolfzone High Flyer at Sansorrella
Czechoslovakian Wolfdog

I was a keen and active member of a group working to establish the Czechoslovakian Wolfdog as a breed in the UK and took my first step in this direction in January 2009 when "Quest" joined us. I think it is going to be a long time before these dogs are recognised by the UK Kennel Club, which is a great shame for the breed as it deserves credibility in the UK. "Quest" is one of the first CSVs to have been bred legally in the UK. Unfortunately due to the lack of suitable studs in the UK I was unable to breed her with pure CSV, but she was still able to contribute to the Anglo Wulfdog breeding programme through her son "Ash".


"Ash" - Sansorrella Quest for Perfection
First generation Anglo Wulfdog

Soul of Sansorrella
Wolfdog


I am now concentrating on forging a healthy future for Anglo Wulfdogs, using only pedigrees known to be true from first hand knowledge of the dogs themselves. DNA profiling of all breeding stock and micro chipping litters ensures accurate, honest and irrefutable records for the future. All breeding dogs are "Embark" tested, not only for genetic breed make-up but for over 160 genetic diseases.

Together with a few likeminded and responsible breeders I am now expanding the Anglo Wulfdog breeding programme with the aim of developing a heavier coated dog, with a Tundra wolf appearance (see the Anglo Wulfdog breed standard for details). To distinguish our dogs from 'Wolf Lookalike' dogs and other Wolfdogs we are registering all our dogs with the Anglo Wulfdog registry, which is not a club but merely a database to record all litters and monitor the health and temperament of the dogs we breed.

Here at Sansorrella we not only publish our breeding dogs' hip scores, but also their DNA profile certificates showing their genetic breed make-up, DM test results and list over 160 other genetic diseases they have been tested clear of. We also give their coefficiency of inbreeding; including the COI of every litter. To understand the importance of COI see the Coefficiency of Inbreeding Calculation article. A few breeders claim to have dogs with low COI, but unfortunately these have been calculated over just three or four generations whereas it is necessary to use ten generation pedigrees to get an accurate COI and we at Sansorrella have the technology and records to do this accurately.



"Dream" and "Breeze 2"
Anglo Wulfdogs


"Soul"
Wolfdog



"Whisper"
Wolfdog



"Quest"
Czechoslovakian Wolfdog


Sansorrella is only a small kennel and all my dogs live in the house, most being neutered family pets. All like to be involved in the family's activities and enjoy a cuddle on the sofa almost as much as a run on the beach.
My aim is to bring the Anglo Wulfdog to the attention of the general public, to promote their versatility and to improve the quality of these wonderful dogs by selective breeding, keeping accurate records of litters and monitoring the health and temperament of all puppies produced.
Here at Sansorrella we take pride in breeding for temperament as well as good looks! We only breed one or two litters a year and the emphasis is on producing healthy, well reared, well socialised and confident puppies. Although we only breed a small number of puppies they are bred from top quality, health tested and DNA profiled parents and a lot of time, planning, care and love goes into each litter.

"Whisper" and "Zephyr"


Sansorrella's

exciting breeding programme is the foundation of a new wolfdog era in the UK

(see

latest news

and

litters pages for details).

Although the purpose is to create more genetically diverse dogs for breeders taking part in the breeding programme, there are inevitably surplus puppies available to the right homes and several families are now delighted to be proud owners of Sansorrella Anglo Wulfdog puppies.

Additions to the breeding programme have resulted in an Anglo Wulfdog with authentic wolflike appearance, maintaining many wolfish traits while being a loyal, affectionate family dog - although many are reserved or even timid with strangers.




"Dream" and "Soul"




I have had many years experience with just about every aspect of keeping dogs and answered questions on general husbandry, care, training, behaviour, breeding and common ailments on a forum for owners, breeders and anyone interested in Wolfdogs and wolf lookalikes. More recently the popularity of 'forums' has diminished in favour of social media so in addition to my own Sandra Curry Anglo Wulfdog Facebook account I also have a Facebook Group for Anglo Wulfdog owners and anyone interested in these dogs Sansorrella Anglo Wulfdogs.

Whilst I am more than happy to talk to people and to answer any questions you may have about Anglo Wulfdogs please don't cause embarrassment or insult me by phoning or emailing for help and advice about a dog purchased from another breeder, you should go back to the breeder of your dog. A responsible breeder will give a good after sales service and I am available, day or night, to offer help and advice to my puppy owners for the life of their dog. Sadly not all breeders do this and some are unapproachable if a problem or query arises after they have sold the puppy. However, if you wish to inform me of a health problem or unexpected loss of a Northern Inuit dog, you are invited to do so via the online Health Survey form (which can be found in the Health section of this website). This is open to ALL owners, regardless of where they purchased their dog; personal information will be kept in the strictest confidence but pedigree information will aid our research into genetic health issues.

I am delighted that my puppy owners stay in touch and frequently update me with photos and news of puppies I have bred over the years. Many are regular visitors and have become firm friends of the family. I am proud of the fact that a large number of my puppy owners come back for a second, third or even fourth or fifth puppy from subsequent litters, which is testimony to my owners being more than satisfied with the quality of Sansorrella puppies and the service we provide.


| | | |
| --- | --- | --- |
| Me with the pack | Some of the pack greeting Aimee | Me getting a kiss from "Soul" |

These are not the easiest dogs and should not be considered as a first dog. Experience of large breeds, confidence, commitment and a good sense of humour are essential qualities in an owner. Anglo Wulfdogs need strong, confident leaders with whom they can form a mutual bond through trust and respect.


If you would like to read more about this type of dog at your leisure then I can recommend my book "The Wolf Lookalike Handbook", which is packed with information and over 100 stunning colour photographs. It is available to buy direct from the publisher http://www.blurb.com in paperback, hardback, cover wrap and ebook versions.

I hope you enjoy your visit to the "World of Sansorrella".

Sandra Curry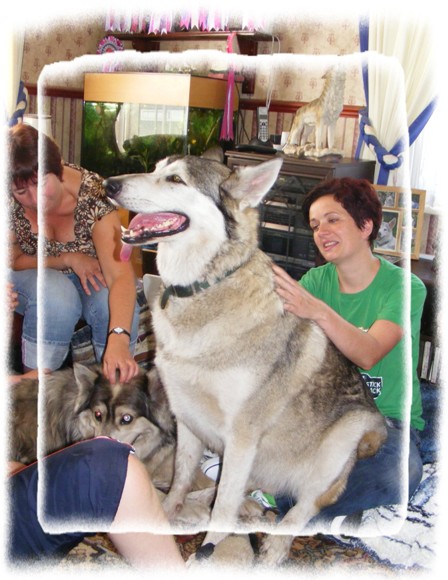 "Timber" makes himself comfortable on a visitors lap!"
"

"Soul" and his daughters "Breeze" & "Dream"

"If you love it, let it go, If it comes back it's yours - If it doesn't, it never was"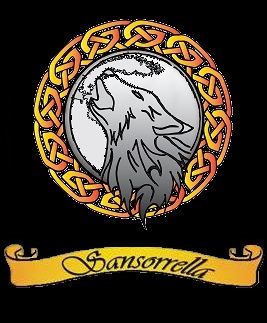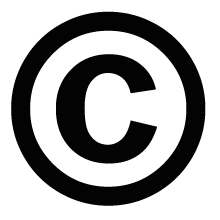 Sansorrella 2019 All rights reserved | Terms and Conditions | Contact Us | Privacy Policy